The beginning
"I'm frightened, I can't defend myself any longer. Night and day, they're torturing me with apocalyptic visions. They say they are some kind of grave diggers, swindlers, musicians, opium and laudanum consumers, fervent believers, occultism and ritual magic practicers. They are called CircuZ KumP and they are headed by a bloodthirsty and irriverent creature, a certain Madame Bistouri. A century ago, they have staged an indecent show inspired by some Baudelaire's verses and they have performed it just one time at the cabaret L'Enfer in Montmartre. Then they have vanished, or maybe nobody wanted to talk about them anymore. They diabolically enter my dreams to force me to get in touch with some Italian artists. They want we gather for some séances in order to bring back to life what happened that cursed evening. I am on the verge of a nervous breakdown, I can't resist anylonger, I have no choice, tomorrow I'll contact these musicians, Ataraxia, I don't know who they are but I absolutely must stop this torment."

Toulon, November 23rd 2005,
from the daily journal of the medium Joséphine Corelli, better known as Mme Ratatouille
Mme Ratatouille at the Trudaine Brewery,
Toulon.
"Ataraxia are going mad, yesterday they told me they were leaving for Toulon. A sudden decision. They explained me that they had to meet a woman, a sensitive who asked them to take part in some séances where a few criminals, who were used to perform in the most ill-famed cabarets of Montmartre, at the beginning of last century, will materialize. They want Ataraxia in order to live again, a century later, a well-known bloody evening at 'L'Enfer', an evening which was passed over in silence since the very day after. Those ridicoulous cabarets artists, those buffoons want Vittorio and the whole band to take part, play and record that sort of musical séances. They have expressly affirmed that they want to perform the first concert of the alive and the dead. I can't calm down, I'm worried about my friends, I hope I can reach them before it's too late."

Honfleur, November 25th 2005
reported by C.T., Ataraxia's collaborator and friend

"They have come back yesterday after having spent forty five days at Mme Ratatouille's in Toulon. For goodness' sake, I don't know what has happened during this lapse of time, they don't want to speak of this with anybody. They have come back with several minutes of recorded stuff but I'll never say, even if menaced, which was the content of those tracks. Anyway, even if I did I wouldn't be able to describe the disgust I felt while listening to those evil litanies, revolting death-rattles, insane howls and agonizing cries. Giovanni and the whole band have saved the first half of those recordings, when music was still played in a natural and tolerable way, and they have destroyed all the rest. They keep saying no but I know they have made a promise. I don't know if they were forced or, overwhelmed by a morbid excitation, they agreed with enthousiasm in bringing back to life "Paris Spleen" (or at least a part of that show) and narrating the history of those damned, impenitent adventurers known as CircuZ KumP. May Ataraxia find their peace of mind again and those sneaky CircuZ KumP be damned!".

Ventoso, December 20th 2005
taken from a piece of writing of U.B., Ataraxia's friend and photographer
Those bloody damned...
"My name is Safran, Safran UdU and I'm born in Alexandria of Egypt. My dynasty follows the Isis and Osiris cults since centuries. I've read a lot of books, forbidden books that everybody believes to be lost. I've travelled along the Orient old ways, as far as India where many persons are sure I died blinded by dreadful visions. Now I live in Paris, I devote myself to esoteric practices and, more concretely, I earn my living creating and setting in motion a good deal of optical stage trickeries in the Vault of the Dead of the Cabaret of Nothingness. There, I met the Grim-Reaper who, more than once, helped me with my optical experiments in front of an astonished audience. One of those evening she asked me to take part to her project, 'Paris Spleen', and, obviously, I accepted. "

words of Safran UdU, skilled musician, occultist and master of optical stage trickery


The Vault of the Dead
Cabaret of Nothingness - Montmartre
Safran UdU
battling with his optical effects
Cabaret of Nothingness - Montmartre
Some theatrical plays
the Grim-Reaper has taken part in
"My name is Gabor Szentendrei, I'm born in Budapest and I'm the only son of the owner and puppeteer of the well-known Szebedei Circus. I detested his lashes, he was used to tell me that he had to tame me like a wild beast to make me become, in my turn, a good tamer. One night, I smoked opium, took laudanum, morphine and gulped down several glasses of absinthe and I fell into oblivion. I found myself in Paris to work in the Intoxication Room of the Cabaret of Nothingness. I was good at mixing potions, I enjoyed observing and analyzing all those poor wretched, addicted to any kind of substances. One evening I met her, she had glassy eyes, she was befuddled by haschisch, her name was Fosca Scarlatti. She seized me by the arm without looking at me and she told me : 'I had to go to the circus that day but someone found the owner torn into pieces by a wild beast, there were pieces of bones and muscles everywhere. His son had vanished. Do you think you are worthy of taking part to my project?'. I followed her, speechless."

referred by Gabor Szebedei Szentendrei, skilled mixer of hallucinogenic substances,
tiger tamer and visionary musician
Gabor Szentendrei (to the right)
serves the absinth in the Intoxication Room
of the Cabaret of Nothingness

WELCOME, O WEARY WANDERER, TO THE REALM OF DEATH!
ENTER! CHOOSE YOUR COFFIN, AND BE SEATED BESIDE IT!
| | |
| --- | --- |
| | Fosca Scarlatti racked by alcohol |
"My name is J. Amphora and I'm born in Edimburgh. My father was a gambler and so my grandfather and all the men's lineage of my family from several generations. I had to leave my town after a regrettable game accident, so I decided to get ahead with my career at the Tavern of Crooks in Montmartre. I emptied many customers' pockets till the owner, a certain Monsieur T., discovered me and kindly asked me to work for him if I didn't want to spend the coming years in a dark and damp cell of the prison in Bd. de Clichy. So, from that very day on we started sharing my earnings but, at least, I didn't have to worry about changing job. One night I met a very elegant lady, Mme Cécile Dubois. As her name foretold, she was a great lover of bel canto and we spent more than one evening playing and singing delightful Italian opera airs. Then she vanished for several months. When Cécile got back, I promised her that if she had sung for me once more I would have done everything for her. She took me at my word, she sang and I followed her to keep my promise. When I discovered that she was nothing but the notorious Madame Bistouri, it was too late..."

tale of Jay Amphora, famous gambler, swindler, good musician, adventurer and expert of prestige games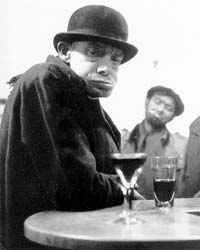 Mr. T, the owner of the Tavern of Crooks
Jay Amphora
(the sixth person from the left with the white shirt)
in front of the Tavern of Crooks

The Tavern of Crooks (inside)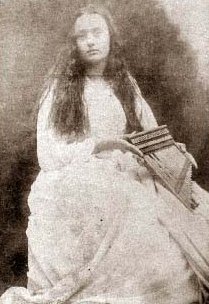 Cécile Dubois
(in the Cabaret of Crooks - daguerreotype)
"I am born in Arles and my name is Lunette, Lunette Namair to be exact. This nickname has been stuck on me as soon as I reached Paris and, to earn my living, I started working as a dishwasher at Père Lunette's. In that ill-famed cabaret, each night a man was killed and never, not even one time, we had the chance to see a bobby. One evening, between love and death I chose love, the love of an innocent maiden, a certain Bianca Pergolesi, daughter of the wine-merchant who was used to supply the tavern. That night Monsieur Pergolesi was sick and, in his place, he sent the girl. To safeguard her virtue from a gang of good for nothing, I was forced to kill and run away. Alas, I would have followed Bianca up to the hell and so I did. Curse me! I sell my soul to a woman who was nothing but Madame Bistouri..."

confession of Lunette Namair, young poet, aspirant myopic illusionist and budding musician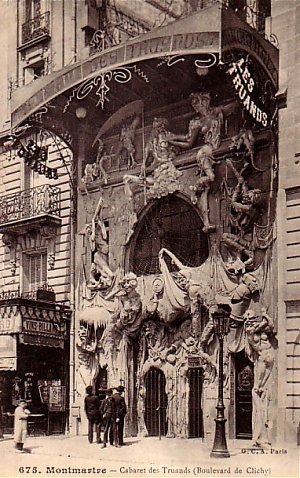 Lunette Namair (the man in white to the left)
in front of the Cabaret of Crooks
Lunette (to the left) in Arles
at the age of eight

Bianca Pergolesi
near the rose garden of La Bagatelle
(photo taken by L. Namair)
"I am called Sibelius and I am born in Saint Petersburgh. After my studies I moved to Moscow and I became the trusty counsellor of the Tzar. I have always been an ardent son of the Orthodox Church and I protested in vain when the Tzarina stroke up a dubious friendship with an ambiguous individual called Rasputin. The Tzar didn't heed my advices, he didn't want to believe me so, by night, I had to quit my country, the Holy Mother Russia, like a bandit, leaving all my memories and properties. When I got Paris I was forced to steal in order to feed myself and I ended up in jail. Those endless months of reclusion enlightened my soul and I decided to purify me transforming one of those awful cabarets, that were spreading in town as a purulent plague, in a place of prayer and redemption. My cabaret would have looked like a cathedral and its name would have been 'Le Ciel', the heavens. With our nocturnal liturgies we would have fought the evil deeds that were committed in the cabaret beside us, 'L'Enfer', the hell, owned by a blameful ex-religious who, among other things, was used to sell his wines at a very high price. Every evening, a pious soul came to 'Le Ciel', her name sounded like the one of Saint Patron of Lutetia, she was called Geneviève de Saint Maur. Her virginal and limpid glance, her fervour and devotion moved me deeply. One night she asked me to take part to a moralizing action organized in favour of the sinful customers of 'L'Enfer'. Naturally, I agreed with inflamed enthusiasm. As soon as I entered that abominable place, I understood that Geneviève was nothing but that vicious and nauseating creature so talked about in town, the unnameable Madame Bistouri! I pray God to forgive me, I, Sibelius the Saint, fallen in the flames and abyss of the hell."

narrated by Sibelius P., erudite mind, philosopher, mathematicien, clair-voyant, ardent believer and inspired musician
| | |
| --- | --- |
| | |
| The Reverend (partner of Sibelius P.) | Sibelius P. |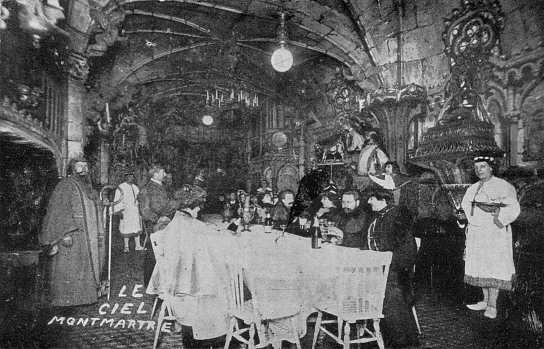 Sibelius P. (to the left ) in the Cabaret of Heaven
"I am a dandy, a lover of carnal pleasures, of vices and any kind of luxuries, and I'm proud of it! Anyway, dignity bores me to death! I am born in Versailles in a dull wealthy and aristocratic family. In a pair of lustres I've squandered everything, my dowry, life annuity and all my family's properties and fortune. I've sold my forniture and sumptuous abode, as well. I also would have sold my soul if someone had wanted it! I loved refined garnments, expensive perfumes, nights and days spent with the most exquisite courtesans. Now, I sell myself, my virtue,ahah!, if possible to mature women with considerable liquid assets who are used to come to 'L'Enfer', where I practise. But, alas, money is never enough and I'm forced to dig graves and sell corpses of executed men, murderers and poor wretched who committed suicide in the Seine to medical students who need to do their training. One night, Madame Bistouri (yes, she introduced herself with her true name) was waiting for me at the cemetery of Rue Saint Vincent to ask me to work for her (who knows, maybe she would have liked working at the morgue to dissect the many moralists of Faubourg Saint Honoré). Obviously, I promptly accepted and I also helped her staging 'Paris Spleen' and entrapping, one after the other, the unaware future interpreters of that peculiar show. What an exciting thing to put on the decadence and vices of the inhabitants of this sick and charming town! The dark side of each of us, that only a few have the courage to admit and reveal, performed on a stage in front of all those hypocrites... Maybe we axaggerated, we touched emotions hidden in the deepest ego, maybe we helped to set those bodies and souls free, we pushed people towards the sabbat of vice and excess, maybe we unconsciously evoked whimsical and evil spirits but that night of January 1906, half an hour after the beginning of the show, the malestrom started. A series of strange, violent, ineluctable events followed one to another. From the very day after everything was hushed up, passed over in silence, a tick courtain of fog was drawn over those puzzling happenings, no more trace of the show, no more trace of us. All of this before today, before this new spiritistic performance! Tremble, you all, CircuZ KumP are back! Ladies and Gentlemen, Signori e Signore, Mesdames et Messieurs, bienvenus à L'Enfer!"

declaration of Rêverie de Bal D. Rak, impoverished nobleman, broke dandy, young mercenary seducer and lady-killer, impenitent leacher, depraved cynic, grave digger and talented musician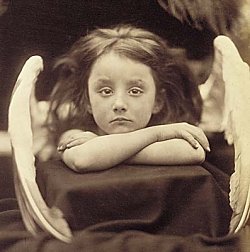 Rêverie de Bal D. Rak at the age of six
in Versailles
Rêverie (the man with the top hat)
in front of the Cabaret of Hell

Fronts of the Heaven and Hell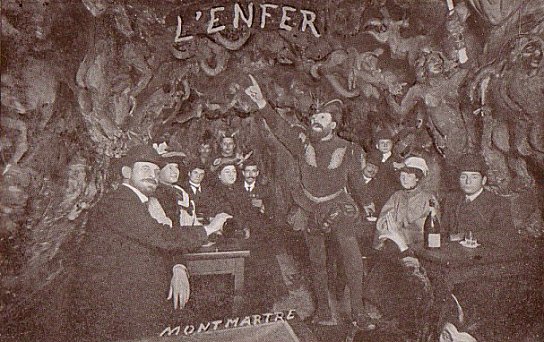 Cabaret of Hell (inside, with the public)
before the unique representation of Paris Spleen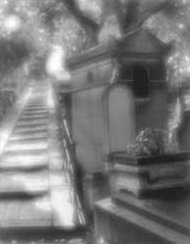 The Montmartre cemetery where Bal D. Rak
met for the first time Madame Bistouri
Madame Bistouri, alias Geneviève de Saint Maur, Fosca Scarlatti, Cécile Dubois, Bianca Pergolesi or the Grim-Reaper didn't want to make any declaration.

Follows...